Lever Wrap
$39.95
Click Here to Watch the Instructional Video
The first accessory for any lever action rifle should be a wrap for the lever. The design of this wrap began in 2004 when The Chuckwalla Kid (SASS Overall World Champion, 2007) described what he thought was needed for running lever action rifles. The result is what we believe to be the very finest lever wrap available for competition, for hunting, or for target shooting. The engineered 4-piece construction of the Palo Verde wrap makes it unique and provides for a wide and stable platform for the backs of the fingers. The special construction makes the wrap wider than your lever and flat – providing more contact surface for your fingers. It does not slip, roll, slide or move in any way —providing for positive finger contact. And, although it cushions the backs of your fingers, it does not give that "spongy" feeling. We have been using this wrap on custom built rifles since 2005 but have only recently packaged it for retail sale. Many World and National Champion competitors use this lever wrap.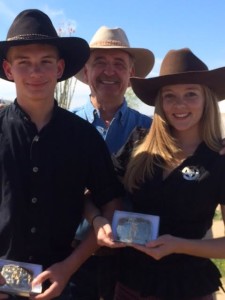 Palo Verde (center) with "Cody James," 2016 Overall National SASS Champion of Cowboy Action Shooting and "SASS Kicker" the 2016 Overall Women's National SASS Champion of Cowboy Action Shooting. SASS Kicker also won Women's National speed rifle (10 rounds, on target, with 1873 in 2.7 seconds). Cody ran Speed Rifle in 1.9 seconds! That's Smokin' fast! These are just a couple of the many World and National Titles these guys have won.  SASS Kicker and Cody are also sister and brother and have two very supportive parents.
Both Cody and SASS Kicker run Palo Verde Lever Wraps on their rifles.
SASS Kicker said that the Palo Verde lever wrap helps her: "… practice and compete with consistency. It provides a stable platform for my fingers and my subconscious mind always knows where the lever is and where my fingers are on the lever. "
Cody simply said: "You need the very best gear and equipment you can get in order to be able to do your very best. The Palo Verde Lever Wrap is simply the best lever wrap there is, anywhere."
Comes with:
Four-piece lever wrap of the finest quality American veg-tanned leather
DVD instructional video showing how to install your lever wrap correctly
Strong synthetic Lace with a nylon core, finished on both sides so it looks nice when using the baseball stitch and the exposed side of the lace changes with each stitch.
Two lacing needles.
PLEASE NOTE: Many people order lever wraps for all their rifles once they have ordered and tried the first one. Occasionally,  someone will ask to buy the subsequent wraps without the DVD and needles because it just seems silly to keep buying more DVDs and needles. Yes it does, but to be completely open and frank, we buy the DVDs 1,000 at a time and they cost us 99 cents each (really amazing). The needles sometimes break and new ones are a good idea and they are also pretty cheap in large quantity. These 4-piece lever wraps are costly to produce and we tried to keep the retail pricing as low as we could. We did realize that the DVDs would be duplicated for some folks and that charging them over and over for the same thing was not a good way to do business.  Therefore, when calculating our production costs, we simply decided not to include the 99 cent cost of the DVDs and it really isn't included in the retail pricing.
MARLINS
Due to the design of our wrap, we must make our wraps to pretty exacting dimensions.
But Marlin drives us crazy. No other gun manufacturer makes so many different models out of the same gun just by changing levers, changing wood, or even screws.  They further complicate things by changing the dimensions of a given lever a little from time to time just for the fun of it. And, on top of that, there are aftermarket levers for Marlins that come in a variety of dimensions depending on the manufacturer.
Fortunately, leather stretches, conforms to odd shapes and is pretty forgiving. And we use the highest grade Veg tanned leather.
The following should help in picking which one of our wraps you need. If you have something not listed, email us and we'll try to work through it.
If you have a Model 1895 in 45-70 or a 444, with a standard "not the Big Loop" lever, you need wrap Model HBB.
If you have a Model 336, with a standard "not the Big Loop" lever, with either pistol grip or straight stock, you need wrap Model M94. (yes, they made a straight stock 336). The 336 was/is made in at least 12 calibers and the Model M94 wrap likely fits all.
If you Have a Model 94 (all 12 variations) in any of the pistol calibers (about 12), with either pistol grip or straight stock, you need wrap Model M94.
If you have the Marlin "Big Loop lever" on any model, you need wrap Model BL. This includes Marlin Models such as 1895SBL, 1895TSBL, !895GBL, etc.
If you have the Ranger Point "Medium Loop" lever on a pistol grip or straight stock of any model Marlin, you need wrap Model BL.
.
Custom fitted for the lever on your model rifle because one size lever wrap does not fit all levers. These models all fit standard finger loop levers. They Do Not Fit the "Big Loop," John Wayne style Levers.
Available Models:
Model: W73, Fits:
                               1873 and 1866 Winchester and Uberti,
                               1860 Henry, also fits
                               IAC and Chiapa 1887s
Model: M94, Fits:
                              Marlin 1894, 444, 336.
                              Rossi Rio Grande.
                              All Henry .22 cal. standard loop rifles
Model: R92, Fits:
                             Rossi 92, EMF, Uberti, Puma and Chiapa 92s.
                             Winchester 1892.
                             Taylor's 1892.
Model: W94, FITS:
                            Winchester 94, 1894 and reproductions
Model: HBB, Fits:
                           Henry Big Boy and
                           Henry 30-30 and 45-70.
                           Marlin 45-70.
Model: BL, Fits:
                          Henry Big Boy with "Large Loop" Lever
                           Henry 45-70 with "Large Loop" Lever
                           Marlin 45-70 with "Big Loop" Lever e.g.
                            Model 1895SBL, 1895TSBL, 1895GBL, etc